It was July 26, 2004. I was getting married in a little less than a year and, taking a moment to break away from Kindergarten teacher busy-ness, I realized that
I'd packed on fifty pounds
since graduating from college the year before. It was on this day that I began the Weight Watcher's Online program and ended up losing the fifty pounds that lazyness and a Taco Bell in three different directions can't help but lead to. My wedding dress had to be taken in twice and I learned
not
to gorge myself on six breadsticks at Olive Garden. Though I still maintain that there are circumstances which require that immense consumption of garlicky goodness.
The
sense of accomplishment
that I felt after losing the weight was incredible. It wasn't only at the culmination of my weight loss journey, either, that I felt such a sense of achievement - it was
during
. Being active, being
pro-active

,
raised my self-esteem higher than it had ever been before. I actually never lacked self-esteem and still felt beautiful when I was heavier, but there was something bogging me down, making me feel stagnant and still.
The accomplishment in losing weight isn't the slimmer figure: it's conquering what seems impossible.
Mustering up my willpower, which I'd before believed myself pretty much averse to, and sticking with a program, putting a goal over a craving, was what gave me an immense sense of self-worth and achievement. It's for this reason that weight loss is successful. When you're doing it for an end result only you WILL fail. When you embark upon it as a lifestyle change both physically
and
mentally, you can attain your goals.
I've lost the baby weight plus another eleven pounds all in three months since Alice was born. In fact, I was back to pre-pregnancy weight about six weeks after her birth...and that was with only two week's effort (exercise and eating right) on my part. Here's a simple break-down of what has worked for me:
Eating 2000 calories a day:
Weight Watcher's Online program was a $40 set-up fee and $14.95 a month when I joined back in 2004. I'm not sure about today's current prices, but I do still recommend WW and find them to be an incredible program. However, I lost twenty pounds before we found out that we were pregnant with Alice (just about the last of the Rose baby weight) and did it with counting my calories. At the time I was extended breastfeeding a toddler, so I combo'd 1500 daily calories with 200 for nursing and was eating 1700 calories a day. Now, since I'm exclusively nursing an infant, I added 500 calories to bring my daily total to 2000. You can easily calculate how many calories you need to eat a day to maintain or lose weight at
www.thedailyplate.com/
. It's a fantastic resource! You cannot adjust it for breastfeeding, but the rule of thumb is about 500 additional calories for an infant and about 200 for a toddler.
Track those calories throughout the day:
Do not, I repeat, do
not
keep mental post-its, ladies! They tend to get lost in the wastebin of brain. At least mine do... I keep track of my calories in my daily planner (right next to 'call the newspaper for delivery' and 'get mail'...). My trick is to begin with the total for the day and subtract breakfast, lunch and dinner right away. So, I have 2000 calories - 270 calories (two Special K waffles and a glass of orange juice for breakfast) - 270 (garlic chicken lean pocket...yum!...for lunch) - 530 (bolognese spaghetti and italian bread for dinner). Pre-planning your meals is important with regard to properly and easily tracking your calories, but I find the predictability helpful and rewarding. Rewarding not only because it helps me to stay easily on track, but also because what you have left over - 930 calories in this example - are your "play" cals for the day! I use these up in having coffee, snacks, treats, etc. I also make sure to use them up in veggies and fruits. Cantalope is my favorite fruit at 60 calories a cup, and broccoli is virtually nothing.
Be active:
If you're someone who likes to take long walks in the morning alone, do it. Like to push your kiddos around town in a stroller?
Get moving, sister!
Have a gym that you visit regularly? Make it a point to get there. Fan of Denise Austen 90's work-out videos? Put on that leotard and get leg-liftin', lady! Don't know anyone who used to do those in college or anything (whistling and slowly walking the other way...). I go to the gym three days a week for 20-30 minutes at a time. As a very busy mom of a toddler and an infant, there are just times when I rush back after 20 minutes because I know that Alice will be freaking out, despite the efforts of her loving father who always supports me going to the gym and in everything that I do. I typically do twenty minutes on the elliptical and then ten minutes on the treadmill. I bring our iPod Touch with free books loaded on it (it's a free app...LitReader, I think?) and am currently reading Tolstoy's
Anna Karenina
while getting my sweat on. Makes the minutes fly by. I'm not naturally a lover of working out, but ever since being so blessed to have moved to our development our clubhouse gym has given this mama a breathe of fresh air and relaxation by letting me get out of the house for a bit and still being close (1 minute away in fact) if there's an emergency (read: suddenly hungry babe!).
My biggest weight-loss advice is to remember that
it won't work unless your entire day is

focused

.
You can't begin to maintain the mental fortitude required to complete a mission at which you've failed over and over again previously unless you are dedicated to excellency in all that you do. Balance your day, keep organized in everything from housework to paying bills to your calorie-counting. That doesn't mean the entire spring-cleaning of your house in an afternoon or creating a color-coded filing system for household expenses, but rather putting that coat lying on the sofa back into the closet instead of telling yourself that
you'll do it later
and getting the mail so that you can pay your electric bill on time even though it's pouring rain and you have to drive to the post office.
Living responsibly, focused and efficiently can prevent you from being irresponsible, distracted and wasteful when it comes to your health.
Though I've obviously had two babies during this time, I'm proof that you can succeed...if my chocolate lovin' self can replace handfuls of M&Ms with a nutrigrain bar and
not
order a large coffee coolata from Dunkin Donuts (see, my beloved iced coffee wasn't always my first choice!) then you can too!
2007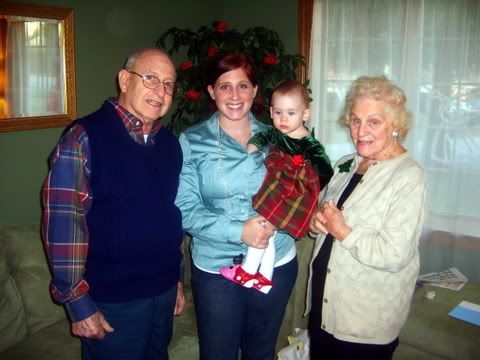 2009 - this weekend :o)